*The Streamline Hotel and Lounge* includes 'The Penthouse Club" which is a Spacious Rooftop Terrace and Lounge and Rooftop Dancing Pavilion.
"Birthplace of NasCar"
140 South Atlantic Avenue
Daytona Beach, Florida 32118
Tel: 386.258.6937
Fax: 386.258-6541
Let us Welcome you to the Friendly Bar - 'Experience 'The Penthouse Club' ' -
Your Favorite Bartenders - Greg and all the BEST - 11 a.m. to 3 a.m. Every Day - Plenty of Free Parking
50 Rooms available all with cable T.V. & Free Local Phone Calls
"Where the Action is"
Great Location: We are just across the street from the Beach!
We are very community involved by serving as a collection point for donated non-perishable Foodstuffs for the Aids Coalition of Volusia and Flagler Counties.
We joyously remain open for your social and dancing pleasures until 3:00 o'clock a.m.!
Below you will find some LINKS which you may wish to pursue and should inquire about should you wish lodging while travelling abroad.
LINKS:
United States:
The Desert Bear Resort, Palm Springs, California
Amsterdam:
The Golden Bear Hotel Kerkstraat 37 1017GB Amsterdam, Netherlands, Tel: 31-20-6244785, Fax: 31-20-6270164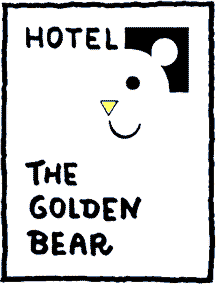 The Golden Bear - Amsterdam
AERO Hotel Kerkstraat 45-491017 GB Amsterdam Telephone: 31 (0) 20 622 7728

The AERO Hotel
International Visitors: below please find a geographic locator map for your convenience:
Right: Mr. Eric Doyle - Owner of The Streamline & Frank Quakenbush,Co-President -Daytona Beach Bears
Richard - C.E.O. of The Streamline Hotel and Lounge
Michael Blake Events Coordinator
Michael Blake - Events Coordinator at The Streamline- Please see him with your Suggestions and Ideas
Ray - Honorary Daytona Beach Regional Bear - Charter Member